Constant Voltage 90-305Vac Dimmable Outdoor LED Drivers
Our VTH Series line of Constant Voltage wide-input voltage (90-305Vac) UL Listed LED Drivers is dimmable for indoor or outdoor lighting applications. This Dimmable LED Driver comes complete with distinct junction boxes for both the high and low voltage load. Furthermore, the Dimmable LED Driver includes two integrated mounting brackets, making it easy to securely screw it in place.
Specifications for dimmable led driver:
SMT-012-300VTH-(12v 25A 300w)
Physical Size:260*103*44.5mm
IP67 Design for Indoor or LED Outdoor Installations
Universal Input: 90-305 VAC
Bulit-in Active PFC Function
Free Air Convection
High Reliability
Constant Voltage Mode
LED Power Application
5-Years Product Warranty
High Efficiency up to 97%
high PFC> 0.98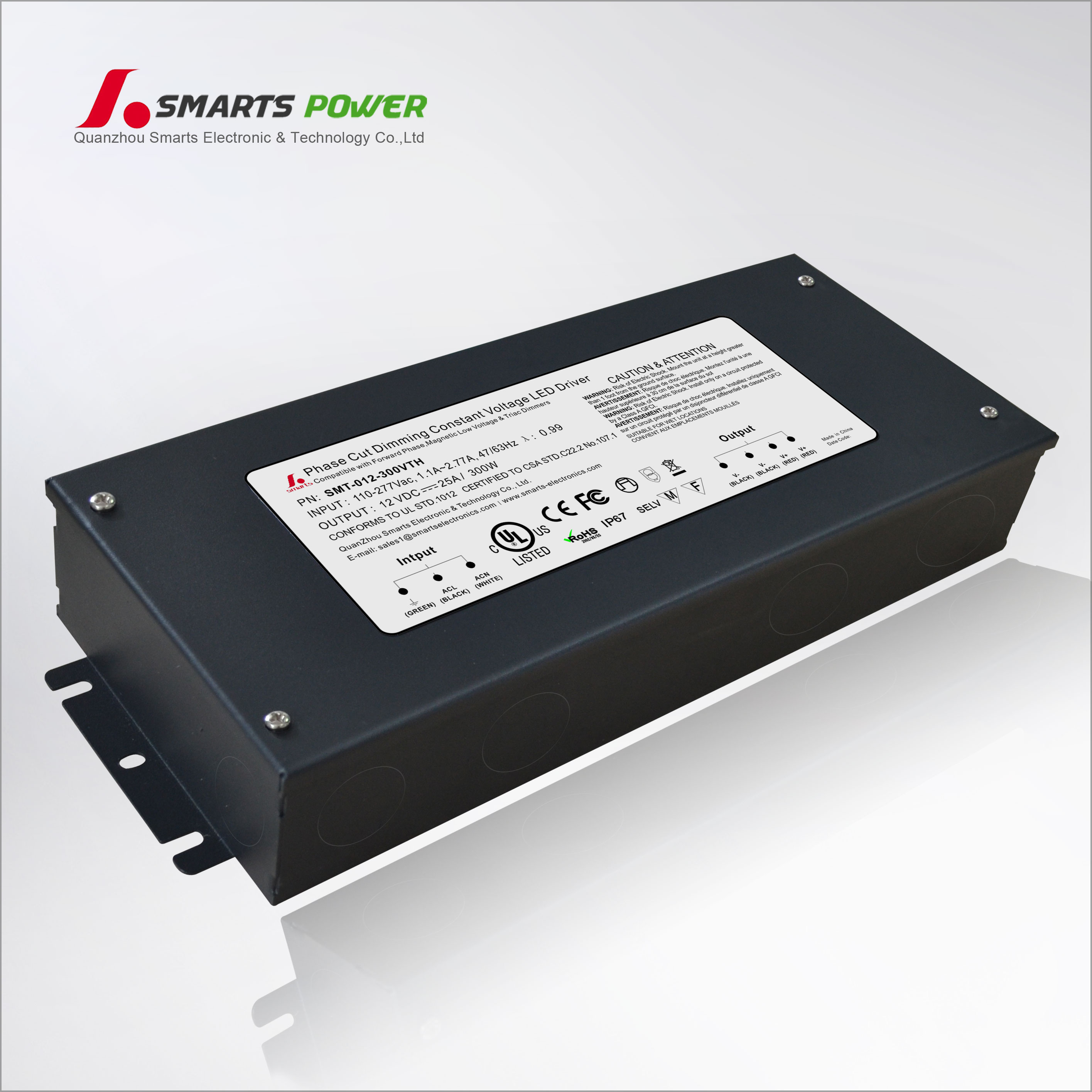 We have developed high PFC> 0.98 , high efficiency> 97% 277vac triac / dali / 0-10v dimmable led driver.They are:
--- triac dimmable LED drivers: 12VDC & 24VDC 100W, 150W, 200W, 250W, 300W with junction boxes attached .. 5 years warranty
--- 0-10V dimmable LED drivers: 12V & 24V 100W , 24V 120W , 12V & 24V 150W, 12V & 24V 180W , 24V 200W 3 years warranty
--- DALI dimmable LED drivers: 12V & 24V 100W , 24V 120W , 12V & 24V 150W, 12V & 24V 180W , 24V 200W 3 years warranty
Why choose Smarts Electronics' 12v led driver?
We are the manufacturer of high-tech research and development in LED control system.
2.Most of our LED controllers have got the ETL UC FCC CE,ROSH certificates.
3.Three warranty for LED controller products
4..OEM and ODM are welcome.
5.Professional team will follow the whole after-sale.
6.A variety of shipping methods for your choice.
7.Prompt delivery and professional after-sales service.
Delivery information for high power led driver:
Packing
Packing Way: 1 piece with one inner carton, 10 inner carton with one outer carton
Shipping
1. By air
Your order will be delivered by DHL, Fedex, UPS, TNT or EMS, It's up to you to choose your favorite express company. It normally takes 3~7 days to arrive at your destination.
2.By sea
Your regular orders will be shipped by vessel if total volume is large.
Shipments will be operated under FOB, EXW tradeterms
Payment
Western Union, Paypal is the first option for samples payment.
T/T is for regular order payment. (30% deposit in advance, 70% before shipment)