ETL ul 12v 200w triac phase dimming led driver
The advantage of a TRIAC based dimming driver is low cost, since it's the dominant type of dimmer used in the world, and does not require a seperate dimmer control circuit as in DALI, DMX or 0-10V, but uses the same 120V AC 230V AC feed, and superimposes a PWM signal onto the 120V itself, which casues the dimmer to vary to output Voltage, i.e from 12V down to 0V. Smarts Electronics Triac dimmable led driver is Leading Edge or Trailing Edge TRIAC & Magnetic dimmers.
Specifications of triac dimming led driver:
200W 12V, IP67 Waterproof, Dimmable from 120V TRIAC / Magnetic dimmer
Input Voltage range 100~130V AC, 47-63Hz, PF > 0.7
Dimmable DC Output: 12V, 200W, Suitable for Leading Edge or Trailing Edge TRIAC & Magnetic dimmers
Protection: Short-Circuit / Over Current / Over Temperature and Auto-recovery Mode
IP67 Waterproof for Indoor or outdoor operation, Cooling by free air convection -20C to +45C, full load, max case 60C, 20 to 95% RH NC
Input Wire Connection: ( N, L, Earth), Output Wire connection: +V, GND
Approvals: ETL (UL), CE, FCC, RoHS
Size: 8.92" L x 3.05" W x 1.85" H, (226.5 x 77.5 x 47mm)
Model

SMT-012-200VT

SMT-024-200VT

SMT-036-200VT

SMT-048-200VT

Output

DC Voltage

12V

24V

36V

48V

Voltage Tolerance

±0.5V

Rated current

16.67A

8.33A

5.56A

4.16A

Rated power

200W

Input

Voltage Range

170~265VAC / 100~130VAC

Frequency Range

47~63HZ

Power Factor ( Typ.)

> 0.70/110VAC, >0.70/220VAC

Full Load

Efficiency(Typ.)

>84%

>84%

>84%

>84%

AC Current(Typ.)

3.09A@110VAC

1.55A@220VAC

.A

Leakage current

﹤0.70mA/110VAC, <0.65mA/220VAC
With Relative Junction Box attached: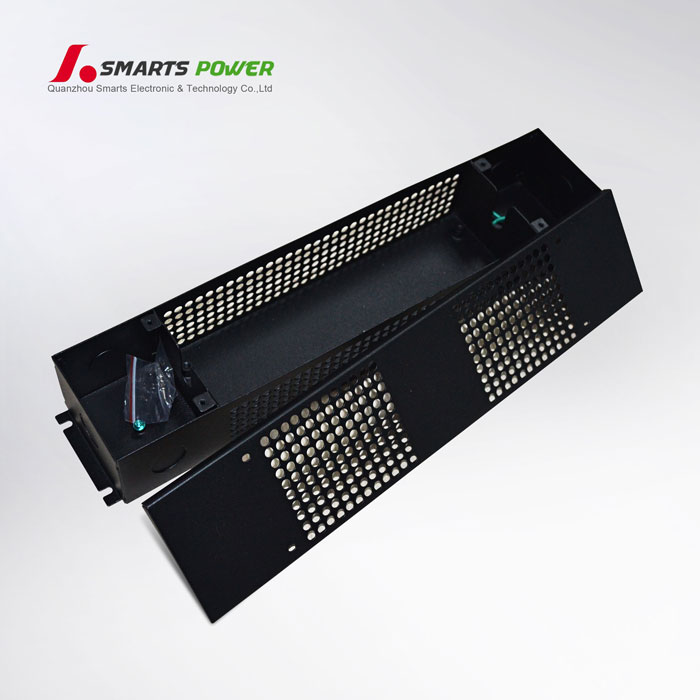 Mechanical Specification of phase dimming led driver:
Input Brown with AC (L),Blue with AC (N)
Output Red is(DIM+),Black is(DIM-)
Note: Any other requests we can customized.
Dimming Operation of triac driver:
Output power level can be adjusted through input terminal of the AC phase line(L) by connecting a triac dimmer.
Compatible with Leading edge or tailing edge triac dimmers.
please try to use the small power dimmer in order to access to a wider dimming range because high-power dimmer is difficult to achieve the output current to zero
Derating Curve of 12v 200w dimmable led driver:
To extend their life, please refer to the Derating Curve and derate according to the temperature.
Terms of Sale and Feedback:
Feedback is extremely important to us.
If you are satisfied with our transaction, please take a moment to leave Positive Feedback.
If there are any issues, PLEASE contact us BEFORE leaving a neutral or negative rating so that we may resolve any concerns.
We PROMISE we can make you happy if you give us a fair chance.
About Smarts Electronics' led driver power supply:
We know how important it is for you to get what you ordered and get it fast. Our products are 100% authentic and brand new. It is very important to us that we put our customers first and you will see this reflected in every transaction with us. We consider it a top priority that our customers are happy and in the rare event that they are not, we do everything we can to fix the situation. If there's a problem, just let us know and we fix it. We guarantee you only the best experience when shopping with us!