Single output 400 watt low voltage switching power supply 12v
This 12V 400 watt power supply accepts dual inputs of 110V or 220V, which is selectable by a side switch. The unit was made to the industry safety standards, and provide overload and over-voltage protection , pls use this
power supply in indoor environment and loading power is better to not exceed 90% , before installed power run, check and proofread each wiring terminals on, make sure the input and output, AC and DC, positive and negative voltage , And current values such as the right to eliminate wrong connection reversephenomenon, to avoid damage to the power supply and user equipment .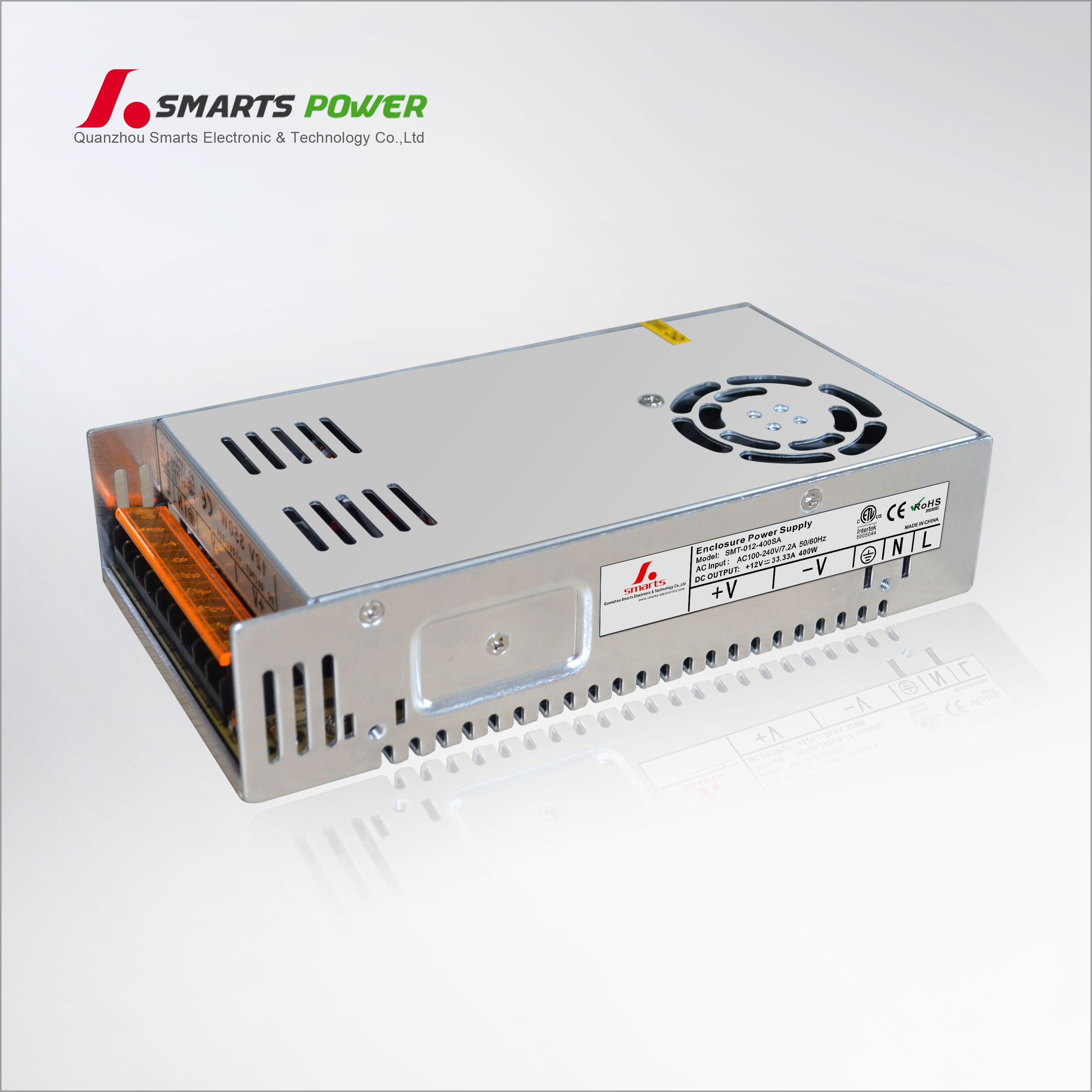 Specifications of 12v 400 watt power supply :
Input AC voltage: 100-240vac
Output DC voltage: 12V
Output current: 33.33A
Output power: 400W
Adjustable range of DC output voltage: ± 0.5vdc
Load Regulation : 《 ± 10%
Efficiency >81% /110vac, >82%/220vac
Output ripple 《 230MV

Features of 12v 400w low voltage power supply :
With the over voltage, current, heashort circuit protection;
Heat from the cold;
100% full load burn-in test;
Low-cost ,high reliability;
Dimensions: 215 x 98 x 38mm
CE, RoHS ETL certified
Cooling by free air convection and LED indicator for power on.
Automatic protection for short circuit, over voltage, over current & high temperature.
It is widely used in CCTV, radio, spy camera, LED display screen, industry control, broadcasting, network, etc.
One Output position design for power supplying.


In order to ensure the safety of human use, before installation, please note:
1. Select the correct input voltage and the input and output connectionmethod.
2. After installationplease tear in addition to the protective layer, so as not to affect the powercooling.
3. Do not peel off the power before installing aprotective layer to prevent foreign matter falling into the lead when the powersupply is damaged.
4. To avoid electric shock, do not disassemble the power supply chassis.