ul 60 watt dimmable drivers for led lights
VTH series is the PWM output & High PF>0.99 & High efficiency>87% 7 years warranty Triac dimmable led driver with UL CE Rohs listed and paired with relative junction box.

Features of 60w led driver:
Output constant voltage
Input voltage range 100-277VAC
Built-in PFC function / PF>0.97
Efficiency >85% / Dimming range: 0~100%
Protections:short circuit/over voltage/over heat
PWM output, does not change the color index
IP20 design for indoor installations
Cooling by free air convection / Flicker-free
Work with leading edge and trailing edge TRIAC dimmers
Strong compatibility, flicker-free dimming
Suitable for LED lighting and moving sign applications
Compliance to worldwide safety regulations for lightings.
Compatible with Forward phase, Reverse phase, Triac, MLV, ELV Dimmers
7 years warranty
Mechanical Specification for dimmable drivers for led lights: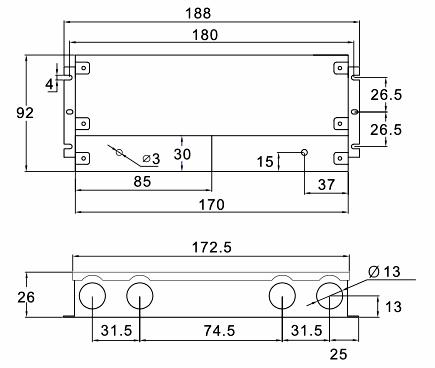 Dimming Operation for 60 watt led driver:
Output constant current level can be adjusted through input terminal of the AC phase line(L) by connection a triac dimmer.
Compatible with Leading edge or trailing edge triac dimmers, but trailing edge dimmers work better..
Please try to use dimmers with power at least 1.5 times as the output power of the driver.
Exhibition: