200-240vac 10w triac dimmable constant current type selectable led driver
The triac super slim led driver series provides excellent thermal dissipation. The installation is very easy, screwless design on surface gives the lamp an IP54 protection level.

Specification
Model

SMT-M-010CTO

Output

Rated current (mA)

450mA

400mA

350mA

300mA

250mA

200mA

150mA

100mA

Current Tolerance

±25mA

DC Voltage

3-22V

3-25V

3-29V

3-33V

3-40V

3-42V

3-42V

3-42V

Rated power

10W

10W

10W

10W

10W

8.4W

6.3W

4.2W

Input

Rated Input Voltage

200-240VAC

Rated Frequency

47-63HZ

Power Factor

Full loading ≥ 0.9@230VAC

Efficiency (Typ.)

Full loading ≥ 75%@230VAC

AC Current (Max.)

0.1A

Inrush Current (Typ.)

11A, 2us @ 50%Ipeak at 230VAC

Leakage current

<0.50mA

Protection

Short Circuit

Constant current mode, recovers automatically after fault condition is removed

Output No-Load Voltage

52V max.

Over temperature

Ambient temp. over 50±5℃, output current will be reduced to 50%;

Ambient temp. over 60±5℃, output will be off; recovers automatically after temp. drops.

Protection Class:

II

Environ-

ment

Working TEMP.

-40-+60℃

Working Humidity

20-90%RH, non-condensing

Storage TEMP. Humidity

-40-+80℃,10-95%RH

TEMP. coefficient

±0.03%/℃ (0-50℃)

Vibration

10-500Hz, 2G 10min./1 cycle,period for 60min.each along X,Y,Z axes

Safety

Safety standards

EN61347-1 EN61347-2-13

Withstand voltage

I/P-O/P:3.75KVAC

Isolation resistance

I/P-O/P:100MΩ/500VDC/25℃/70%RH

Others

Weight

0.65Kg

Size

135*30*20mm(L*W*H)

packing

350*300*135mm (100PCS/CTN ) for outer carton G.W.:7.6 kg

Notes

1. All parameters NOT specially mentioned are measured at 230VAC input, rated load and 25℃of ambient temperature.

2. Tolerance: includes set us tolerance, line regulation and load regulation.
Mechanical Specification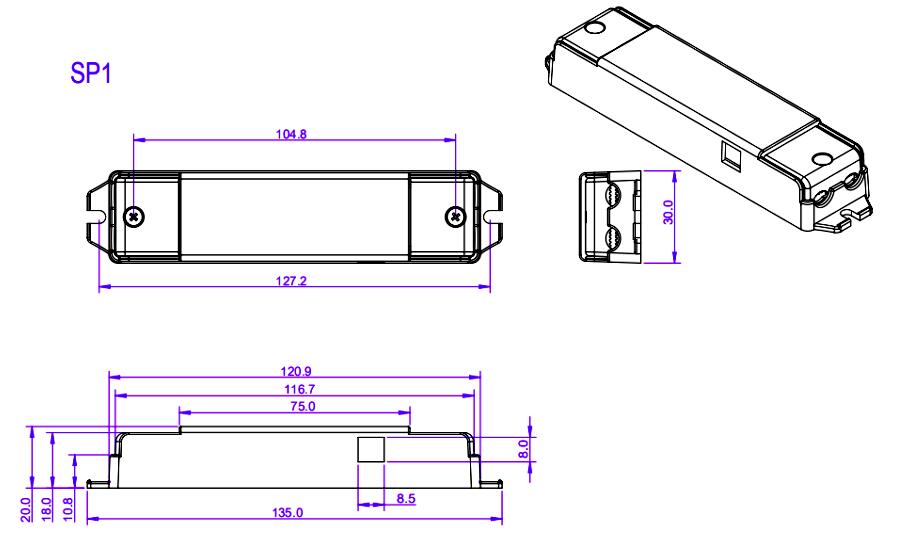 Ø Input with DG126 terminals 3P: Live Wire AC (L), Neutral Wire AC(N)
Ø Output LED SEC with DG126 terminals 2P: output Positive (LED+), output negative (LED-). Connected to LED Lamps.
Ø Suggested wire diameter: Input 0.75-2mm2; Output:0.5-2mm2.
Dimming operation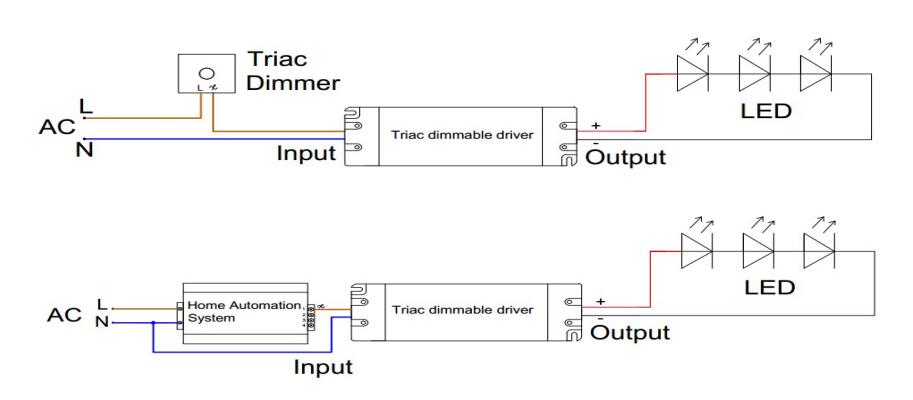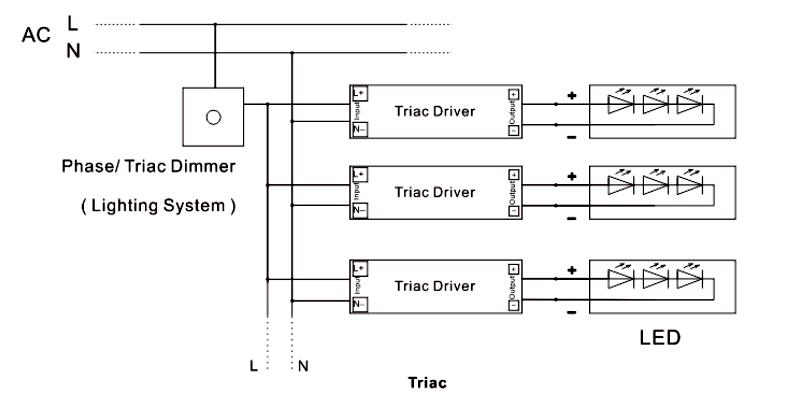 Compatible with indoor downlight
There has a new series of our triac dimmable led driver with constant current type led driver, there are many output voltage and output current you can choose for your downlight.
Please feel free to let us know when you have any questions on our led driver.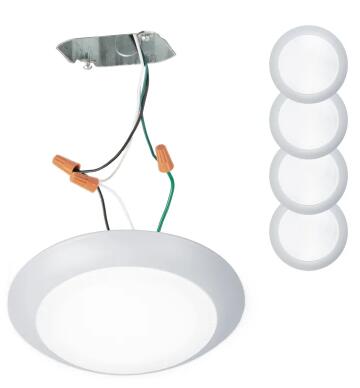 Related Products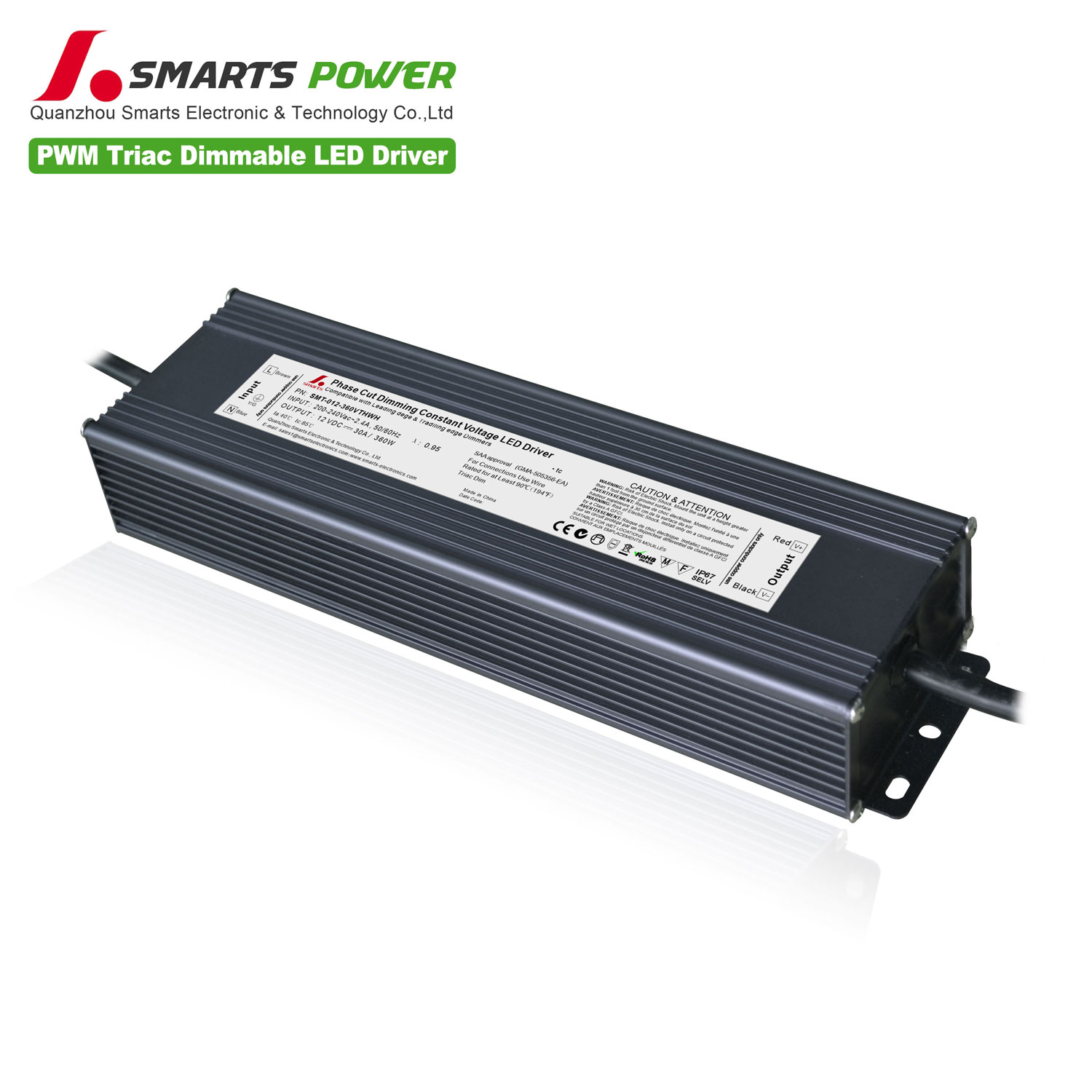 The hign wattages for the 12vdc 360w triac dimmable led driver is aluminum cases for outdoor lighting. 7 years warranty. When working with existing wiring, installing a chandelier is a simple project that only takes a day, so you can easily and quickly make a big impact on your home's decor.
Mode:SMT-012-360VTHWH
intput voltage:100~277V AC
Size : 276*78*457mm
100% full load burn-in test
Weight:1.67Kg/pcs