ETL listed Triac Dimmable 12 Volt 60 Watt Indoor Led Strip Driver

Not limitation Triac Dimmable LED Driver.Compatible with Forward phase, Triac,MLV Dimmers or Reverse phase,Triac,dimmer.
LUTRON,CLIPSALI,DYNALITE,LEVITON,VARILIGHT,BTICINO.PHILIPS,CRESTRON,RAKO,JUNG,V-PRO,BUSCH-JAEGER,BERKER,GIRA,ELKO,EPV,etc. brand of dimmer are all sitable for the type triac dimmable led driver.
24v 60w led dimmable driver passed ETL、CETL、FCC CE,Rohs certification.
--output
DC Voltage 12V/24V
Voltage Tolerance ±0.5V
Rated power 60W
--Input
Voltage Range 100~130V/170-265VAC
Frequency Range 50~60HZ
--Environ
ment
Working TEMP. -40~+60℃
Working Humidity 20~90%RH,non-condensing
Storage TEM.,Humidity -40~+80℃,10~95%RH
TEMP.coefficient ±0.03%/℃(0~50℃)
Vibration 10~500Hz,2G 10min./1 cycle,period for 60min.
each along X,Y,Z axes
--Safety&
EMC
Safety standards EN-60950-1, EN61347-1/-2/-13
Withstand voltage I/P-O/P:3.75KVAC
Isolation resistance I/P-O/P:100MΩ/500VDC/25℃/70%RH
EMC EMISSION Compliance toEN55015,EN61000-3-2 (≧50%load)
EMC IMMUNITY Compliance to EN55015; EN61000-4-2,3,4,5,6,8,11, EN61547
Alight industry level (surge4KV)
Others
Weight About 1.0Kg
Size 210*68.5*43mm(L*W*H)
packing 324*298*176mm (L*W*H)
--60W triac dimmable led driver Mechanical Specification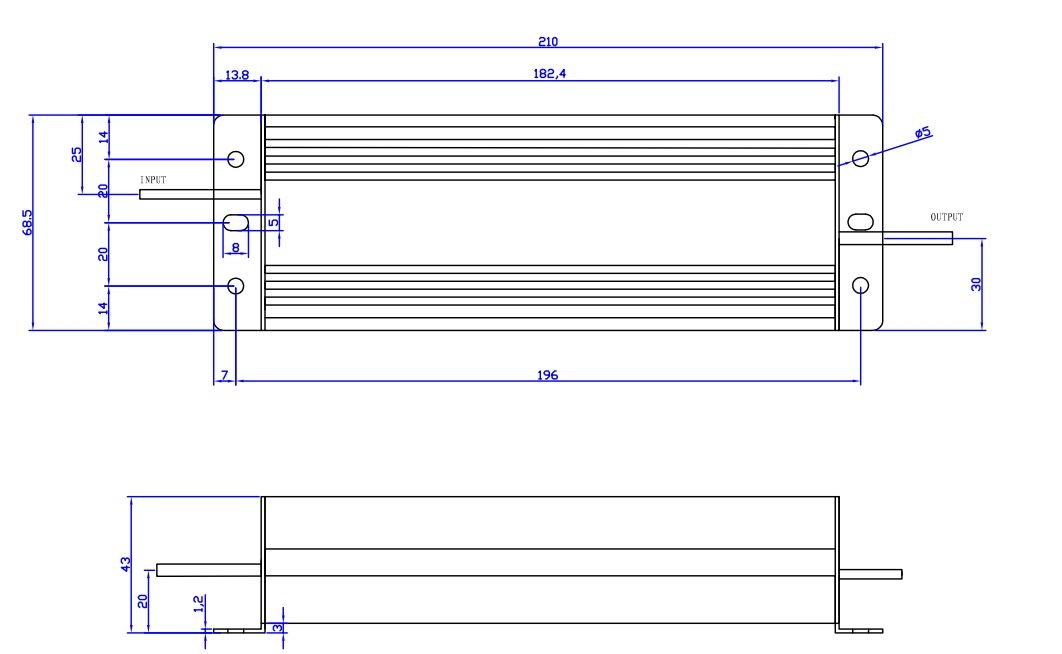 ※Input Brown with AC (L),Blue with AC(N),Green/Yellow with AC(G)
※Output Red is(DIM+),Black is(DIM-)
※Note: Any other requests we can customized.
--Dimming Operation of 60w dimmable led strip driver
※Output constant current level can be adjusted through input terminal of the AC phase line(L) by connection a triac dimmer.
※Compatible with Leading edge or tailing edge triac dimmers.
※please try to use the small power dimmer, have access to a wider dimming range, high-power dimmer is difficult to achieve the output current to zero