They are many different kinds of dimmers installed in offices and homes of various specifications (such as: TRIAC dimmers,Electronic ELV reverse phase trailing edge dimmers,Magnetic, Low-Voltage (MLV) leading edge dimmers,). The LED Driver Power Supply in dimmable LED lamps may work with many kinds of dimmer but not all, for example LED lamps work better with trailing-edge dimmers rather than leading-edge dimmers.
All in all, the LED dimming performance is regulated by the capability of the LED dimmable driver/chip and the compatibility of the dimming circuit.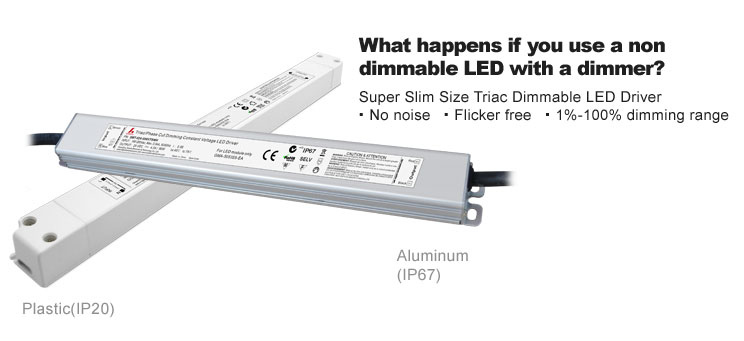 Some of the issues that may occur when a dimmer is incompatible with an LED lamp. The issues are:
1. Flickering - Lamps will flicker (can also occur if a non-dimmable lamp is used)
2. Drop-out - No light output at the end of the scale. ...
3. Damage or failure - LED driver, circuit or LED is damaged or fails.
4. Multiple lamps - issues may become obvious when multiple lamps are added
5. Not smooth - Light output may not go from dim to bright linearly
6. Failure or Damage - LED driver, circuit or LED is fails.
7. Mixed models- Different models of LED will likely have different drivers
8. Load below minimum - The power load of the LED lamp is below the minimum required by the dimmer

If you would like to have dimming function for the led light, dimmable led driver is necessary in this connection. Smarts Electronics's Dimmable Class 2 LED Slim Line series comes in 12VDC and 24VDC models. These new drivers delivers smooth ficker free dimming. These drivers are the perfect choice for LED panels, LED Strips, LED Cove Lighting and various commercial and residential LED applications. What is more, the super slim size are workable for the LED Lights projects which have size limitation.
Here I would like to make recommendation for one models of our slim size led drivers which are hot selling in North America. Pls check details as below:




Super Slim Size Triac Dimmable LED Driver

--SMT-024-060VTSP / Plastic casing / 300*32*20mm

--SMT-024-060VTSW / Aluminum casing / 300*30*18.5mm

--Output: 24Vdc @2.50A 60Watt

--Universal AC input: 110~277 VAC / 47-63Hz

--dimming mode:Triac dimming

--Efficiency > 87% PF:>0.95

--warranty: 7 years warranty

--CE SAA C-TICK , Class 2 , Class P, CE approval

--no sound or buzzing to be emitted by driver when triac dimmed

--Rated for 30,000 hours at 80% power

--Free Air convection cooling

--For large area lighting brightness control, connect multiple LED Drivers to a single 120VAC dimmer switch

--Auto reset protection in case of lighting overload, open-circuit, short-circuit, over-temperature or over voltage




Smarts Electronics offers vast collection of ETL/cETL,CE, Rohs listed and Class 2 standard Dimmable Drivers for LED Lights. They are: LED Driver Triac, LED Driver Dali, LED Driver 0-10V.
More information if you would like to know Smarts Electronics' dimmable driver,
you can login https://www.smarts-electronics.com/
Or contact with Mr. Steven(skype: steven821228mail:sales1@smartselectronics.com)

| | | |
| --- | --- | --- |
| Triac Dimmable LED Driver | Dali Dimmable LED Driver | 0-10V Dimmable LED Driver |
| | | |
| 12v/24Vdc 12W | 12v/24Vdc 60W | 12v/24Vdc 120W |