UL Listed 24v 200Watt dimmable led driver transformer for led strip

Product description for dimmable led transformer

Our 24v dimmable led driver offers an elegant control and dimming solution for any of your flexible tape light and LED light strip projects. The wide range of compatible wall dimmers means that you get to choose the wall dimmer that best suits your home, office, or other building. This unit is UL/cUL liste and 7 year warranty. Our range of Dimmable Drivers are the ultimate solution in any of your LED lighting projects and are compatible with most Lutron and Leviton dimmer switches and most triac switches.

Features for led driver transformer
--Control the brightness of your LED light strips with a wall dimmer
--Compatible with all 24V LED light strips
--UL/cUL listed, Class P, Type HL standard
--7 Year Warranty
Specifications for 24v dimmable led driver
• Input : 100-277V AC
• Output : 24V DC
• Dimensions : 260*103*44.5mm
• Compatible Lutron dimmers include Ariadni, Vareo, Nova, Ceana, Diva, Gyder, Lyneo, Nova T and Skylark
• Compatible Leviton dimmers include Mural, SureSlide, ToggleTouch and Vizia
Instructions for 277VAC Dimmable LED Driver

• Driver input : Green (Ground), Black (Live), White (Neutral)
• Driver output : Red (Positive), Black (Negative)
Model

SMT-012-200VT

SMT-024-200VT

Output

DC Voltage

12V

24V

Voltage Tolerance

±0.5V

Voltage Regulation

±0.5%

Voltage Tolerance

±0.5V

Load Regulation

±2%

±1%

±1%

Rated current

16.67A

8.33A

Rated power

200W

Input

Voltage Range

100-277VAC

Frequency Range

47~63HZ

Power Factor(Typ.)@ full load

0.96@120VAC 0.97@277VAC

0.97@120VAC 0.95@277VAC

THD(Typ.)@ full load

<20%

Inrush Current (Typ.)

15A, 50%, 1.4ms

Full Load

Efficiency(Typ.)

>83%

>83%

AC Current(Typ.)

2.3A@110VAC

Leakage current

<0.50mA
Mechanical Specification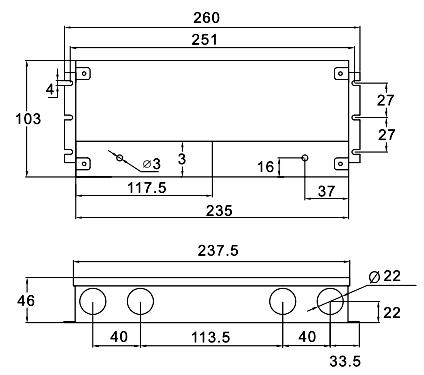 ※Input:18AWG Black and White to be connected to AC L and N ,Green wire go ground,
※Output: Red is(DIM+),Black is(DIM-)
※Note: Any other requests we can customized.
Dimming Operation
※Output constant current level can be adjusted through input terminal of the AC phase line(L) by connection a triac dimmer.
※Compatible with Leading edge or trailing edge triac dimmers, but trailing edge dimmers work better..
※Please try to use dimmers with power at least 1.5 times as the output power of the driver.
Derating Curve for 24v dimmable led driver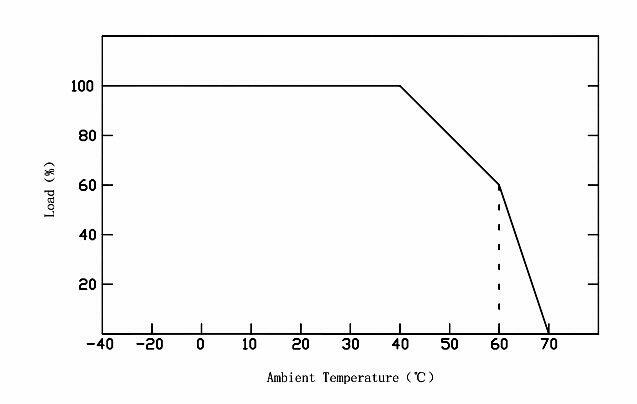 ※To extend their life, please refer to the Derating Curve and derate according to the temperature.