110~277VAC 0-10v Dimmable Drivers for LED Lights UL Certifications
0-10v led driver provide smooth, efficient power and dimming capability for LED lighting. Primarily used and rated for indoor and outdoor commercial LED applications, 0-10v dimmable driver can be dimmed from 100% down to 1% with 0-10V dimmers by Lutron® and other manufacturers. These dimmable drivers for led lights can be included an inspection-ready ETL Listed junction box enclosure and offer unparalleled performance for 0-10V systems.
Features for 0-10v led driver:
·Output constant voltage type
·range :100-277VAC
·Built-in PFC function PF>0.90
·E fficiency > 88%
·Protections:short circuit/over current/over voltage/over temperature
·Cooling by free air convection
·IP67 design for indoor or outdoor installations .
·Dimming function:0-10V/ 1-10V/ 10VPWM signal or resistance .
·Suitable for LED lighting and moving sign applications
·Compliance to worldwide safety regulations for lighting
·Suitable for dry/damp/wet locations
·5 years warranty
Specifications for dimmable drivers for led lights:
Model

SMT-012-100V DH

SMT-024-100VDH

Output

DC Voltage

12V

24V

Voltage Accuracy

±0.5V

Rated current

8.33A

4.0A (Class 2 )

Rated power

100W

96W

Ripple&noise Max.

200mVp-p

350mVp-p

350mVp-p

250mVp-p

400mVp-p

Input

Voltage Range

100~130VAC, 170~265VAC

Frequency Range

47~63HZ

Power Factor ( Typ.)

>0.90

>0.90

Full Load Efficiency(Typ.)

>88%

86%

87%

>88%

88%

AC Current(Typ.)

1.010A/120VAC 0.713A/170VAC 0.550A/220VAC 0.457A/277VAC

Leakage current

﹤0.25mA/110V,277VAC

Protection

Short Circuit

Protection type: Hiccup mode, recovers automatically after fault condition is removed

Over voltage

≦280VAC

Over temperature

100℃±10℃ shut down o/p voltage, re-power on to recover

Environment

Working TEMP.

-40~+60℃

Working Humidity

20~95%RH,non-condensing

Storage TEM.,Humidity

-40~+80℃,10~95%RH

TEMP.coefficient

±0.03%/℃(0~50℃)

Vibration

10~500Hz,5G 12min./1 cycle,period for 72min.each along X,Y,Z axes

Safety&EMC

Safety standards

Class P, Type HL, EN61347-1 EN61347-2-13 IP67

Withstand voltage

I/P-O/P:3.75KVAC I/P-FG:1.88KVAC O/P-FG:0.5KVAC

Isolation resistance

I/P-O/P I/P-FG O/P-FG:100MΩ/500VDC/25℃/70%RH

EMC EMISSION

Compliance to EN55015,EN61000-3-2 (≧50%Load)

EMC IMMUNITY

Compliance to EN61000-4-2,3,4,5,6,8,11,EN61547,Alight industry

level (surge4KV)

Others

Weight

1.32Kg

Size

230*70*47mm(L*W*H)

packing

329*279*176mm/10pcs

Notes

1. All parameters NOT specially mentioned are measured at 110V, 277VAC input , rated load and

25℃of ambient temperature.

2. Ripple& noise are measured at 20MHz of bandwidth by using a 12"twisted pair-wire terminated with a 0.1uf &47uf parallel capacitor.

3. Tolerance:includes set us tolerance,line regulation and load regulation .
Mechanical Specification for dimmable driver: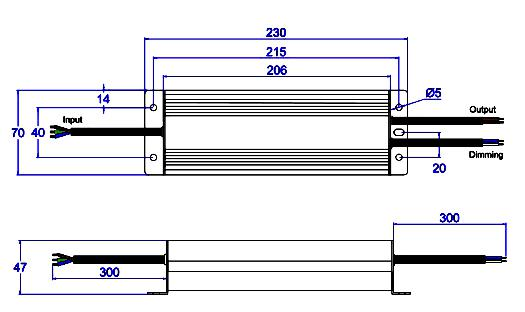 ※Input 18AWG*3C,the green/yellow cable connect with (FG),Brown with AC (L),Blue with AC(N)
※Signal 18AWG*2C,Red is(DIM+),Black is(DIM-)
※Output 18AWG*2C,Blown is output(V+),Blue is output(V-)
※Note: Any other requests we can customized.
Dimming Operation for DALI LED Driver:
※Built-in 3 in 1 dimming function, I67 rated .Output constant current level can be adjusted through output cable by connection a resistance or 1-10V DC or 10V PWM signal between DIM+ and DIM-
※Reference resistance value for output current adjustment (Typical)
Resistance value

Signal driver

0Ω

10KΩ

20KΩ

30KΩ

40KΩ

50KΩ

60KΩ

70KΩ

80KΩ

90KΩ

100KΩ

OPEN

Multiple drivers

0Ω/N

10KΩ/N

20KΩ/N

30KΩ/N

40KΩ/N

50KΩ/N

60KΩ/N

70KΩ/N

80KΩ/N

90KΩ/N

100KΩ/N

——

Percentage of rated current

0%

10%

20%

30%

40%

50%

60%

70%

80%

90%

100%

102%-108%
※1-10/0-10V dimmable function for output current adjustment(Typical)
| | | | | | | | | | | | | |
| --- | --- | --- | --- | --- | --- | --- | --- | --- | --- | --- | --- | --- |
| Dimming value | 0V | 1V | 2V | 3V | 4V | 5V | 6V | 7V | 8V | 9V | 10V | OPEN |
| Percentage of rated current | 0% | 10% | 20% | 30% | 40% | 50% | 60% | 70% | 80% | 90% | 100% | 102%-108% |
※10V PWM signal for output current adjustment (Typical): Frequency range:100Hz-3KHZ
| | | | | | | | | | | | | |
| --- | --- | --- | --- | --- | --- | --- | --- | --- | --- | --- | --- | --- |
| Duty value | 0% | 10% | 20% | 30% | 40% | 50% | 60% | 70% | 80% | 90% | 100% | OPEN |
| Percentage of rated current | 0% | 10% | 20% | 30% | 40% | 50% | 60% | 70% | 80% | 90% | 100% | 102%-108% |