UL Listed 24v Dimmable LED Driver Power Supply

Product description for 277VAC Dimmable LED Driver:
Our 277VAC VTH series is an excellent quality Triac Dimmable Power Supply. Compatible with most AC wall dimmer including Leviton, Lutron and most other household dimmers. Can be used for many LED lights including strip light, puck light, module light,led bar light and many other applications. Requires no minimum load and it is very quite without any buzz or humming noise.
Warning: Do not overload. It is recommended not to exceed 80% of dimmable driver's capacity. Please calculate your load before connecting the power.
Specification for our SMT-024-120VTH 24v dimmable led driver:
Output constant voltage
Input voltage range 100-277VAC
Built-in PFC function / PF>0.97
E fficiency > 85% / Dimming range: 0~100%
Protections:short circuit/over voltage/over heat
PWM output, does not change the color index
IP20 design for indoor installations
Cooling by free air convection / Flicker-free
Work with leading edge and trailing edge TRIAC dimmers
Strong compatibility, flicker-free dimming
Suitable for LED lighting and moving sign applications
Compliance to worldwide safety regulations for lightings.
Compatible with Forward phase, Reverse phase, Triac, MLV, ELV Dimmers
7 years warranty
NON-waterproof use for indoor dry or damp location only
Mechanical Specification for dimmable driver: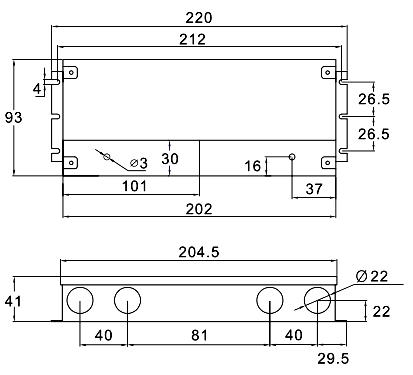 ※Input:18AWG Black and White to be connected to AC L and N ,Green wire go ground,
※Output: Red is(DIM+),Black is(DIM-)
※Note: Any other requests we can customized
Dimming Operation for 24v dimmable led driver:
※Output constant current level can be adjusted through input terminal of the AC phase line(L) by connection a triac
dimmer.
※Compatible with Leading edge or trailing edge triac dimmers, but trailing edge dimmers work better..
※Please try to use dimmers with power at least 1.5 times as the output power of the driver.
Derating Curve for 24v dimmable led driver: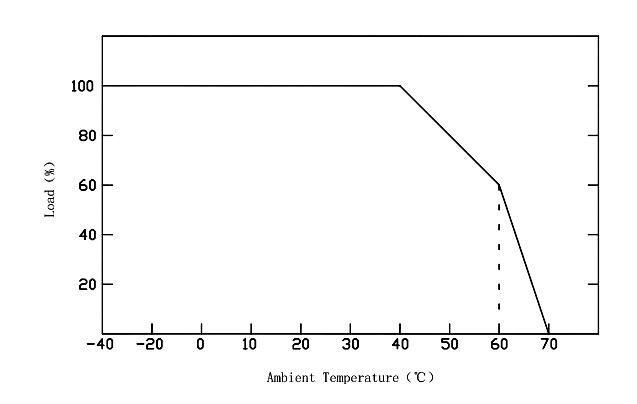 ※Load carried in accordance with the load derating curve, according to the ambient temperature derating, in order to
extend the working life.
Simple Connection Diagram: