100-265vac IP67 dc electronic led driver 12v 96w
The IP67 12V 96w led electronic driver provides a constant Voltage of 12V DC and feature two distinct ports for input and output: the 100-265v AC input (black wire) has 3 wire connections: one for the live wire (black), one for the neutral wire (white) and one for the ground (green). The 12V DC output (white wire) features 2 connections: one positive (red) and one negative (black). this driver is compliant with worldwide safety regulations for lighting .
Product Specifications of 12v 96w dc led driver :
•Input: 100-265V AC
•0.92A/110VAC, 0.86A/220VAC
•Output: 12V DC 8A
•Wattage: 96W
•Waterproof: IP67
•Input Efficiency : 88%
•Working Temperature: -30℃ to +50℃, 20%-99%RH
•Dimensions: 185×69 43mm(L×W×H)
•Carton Qty : 20PCS/CTN
•Weight: 0.9KG/PCS
•Warranty: 3 years

Features of 12v 96w led electronic driver :
•Constant voltage style power supply
•Universal AC input/ Full range
•Protections: short circuit, over load, over temp
•Cooling by free air convection
•Fully encapsulated with IP67 level
•100% full load burn-in test
•Small volume, low weight, high efficiency

Warnings of led driver 12v 96w :
Don't open or modify the led power supply.
Please use it under professional electrician's guides.
Any abuse or improper use will void warranty.
Please leave children, kids far away from high voltage power source.

NOTE
1.All parameters NOT specially mentoned are measured at 110VAC,220VAC input,rated load and 25℃ of ambient temperature.

2.Ripple & noise are measured at 20MHz of bandwidth by using a 12" twisted pair-wire terminated with a 0.1uf&10uf parallel capacitor.

3.Tolerance:includes set up tolerance,line regulation and load regulation.
Mechanical Specification of 12v 96w led electronic driver :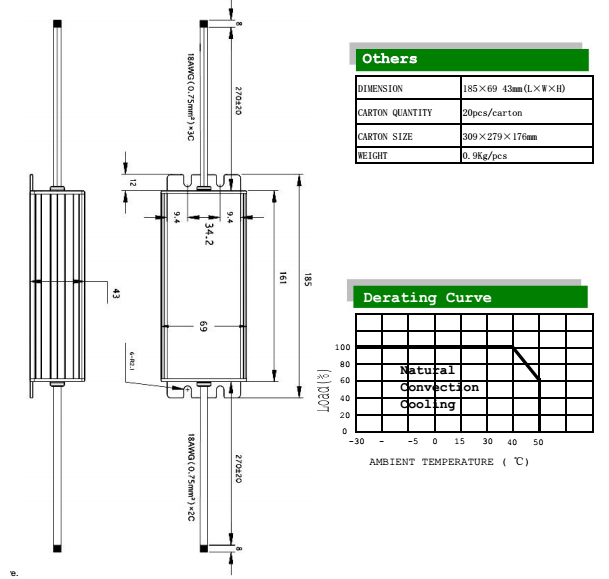 Delivery details :
1. UPS/DHL/FEDEX/TNT express, which takes 3~ 5 days to arrive
2. Air transportation which takes about one week to arrive.
3. Sea transportation takes about one month to arrive, depending on your actual requirements.