Waterproof ETL 12v 2.5a 30w intertek led power supply


Waterproof ETL 12v 2.5a 30w intertek led power supply is a constant voltage designed intertek power supply that can handle a universal AC input from 100 to 265Vac. This LED power supply is epoxy encapsulated with an IP67 level rating and can withstand a 1.5KVac surge input .

Features
12v 2.5a 30w led power supply
Maximum load of 30 watts
Universal input voltage range
Constant output voltage
2-year guarantee
Complies with CLASS C from minimum to maximum load range according to EN 61000-3-2
High efficiency
Enclosed terminals for input and output cables
Overtemperature and overload protection
Short-circuit shutdown feature with automatic restart
Protection class II, SELV
Type of protection IP67
Aluminum casing
SPECIFICAION
MODEL
SMT-012-030WW
SMT-024-030VW
SMT-036-030VW
OUTPUT
DC VOLTAGE
12V
24V
36V
RATED CURRENT
2.5Amp
1.25Amp
0.83Amp
CURRENT RANGE
0~2.5A
0~1.25A
0~0.83A
RATED POWER
30W
30W
30W
RIPPLE&NOISE(max)
150mV
150mV
150mV
CURRENT TOLERANCE
±0.5V
±0.5V
±0.5V
SETUP RISE TIME
80ms/110,220VAC
81ms/110,220VAC
82ms/110,220VAC
HOLD UP TIME(Typ.)
60ms/110-220VAC
60ms/110-220VAC
60ms/110-220VAC
INPUT
VOLTAGE RANGE
100~265VAC
FREQUENCY RANGE
50~60Hz
POWER FACTOR(Typ.)
EFFICIENCY(Typ.)
>83%
>83%
>83%
AC CURRENT(Typ.)
3.5A/110,220VAC
2.0A/110,220VAC
1.5A/110,220VAC
INRUSH CURRENT (Typ.)
COLD START 50A/110~220VAC
PROTECTION
Short circuit
Protection type:recovers automatically after condition is removed
Overload
overload protected@145-160% above peak rating
Over temperature
Protection type:Shut down o/p voltage,re-power on to removed
ENVIRONMENT
WORKING TEMP.
-30~+50℃ (Refer to output load derating curve)
WORKING HUMIDITY
20~99% RH non-condensing(Waterproof)
STORAGE TEMP.,HUMIDITY
-40~+80℃,10~99%RH
SAFETY&EMC
SAFETY STANDARDS
ETL/ROHS/CE Mark(EMC,LVD),IP67
WITHSTAND VOLTAGE
I/P-O/P:1.5KVAC IP-GND:1.5KVAC
EMC Test Standards
EN55015:2006;EN61547:1995+2000;EN61000-3-2:2006
EN61000-3-3:1995+A2:2005;EN61346-1:2001;EN61347-2-13:2006
NOTE
1.All parameters NOT specially mentoned are measured at 110V,220VAC input,rated load and 25℃ of ambient temperature.
2.Ripple&noise are measured at 20MHz of bandwidth by using a 12" twisted pair-wire terminated with a 0.1uf&10uf parallel
3.Tolerance:includes set up tolerance,line regulation and load regulation.
Label


Data
Input voltage AC 100– 265vac
Rated current (at 110 V/220vac) 3.5 A
Mains frequency 50 - 60 Hz
Efficiency > 83 %
Output voltage tolerance :+ 5 %
Output power 30 W
Setup rise time (output) : 80ms/110 , 220vac
Hold up time (output) : 60ms /110,220vac
Ambient temperature ta -30 to +50 °C
Storage temperature ts -40 to +80 °C
Dimensions L x W x H 182 x 29 x 20 mm
Mechanical Specification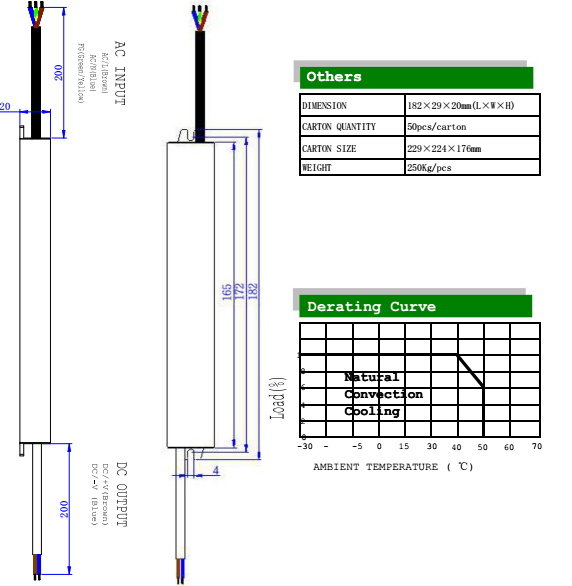 Cable Model of input : H03VV-F 3G0.75mm2
Cable Model of output: H03VV-F 2*0.75mm2(red, black)
Company information
Smarts Electronics, the led driver manufacturer located in Quanzhou,has 6 years trade experience in Alibaba.
We have 7 kinds of led drivers or led power supply:
1.Constant Voltage LED Driver;
2.Constant Current LED Driver;
3.Triac CC&CV Dimmable LED Driver
4.0-10v CC&CV Dimmable LED Driver
5.DALI CC&CV Dimmable LED Driver
6.Power Adapter
7.Switching Power Supply
Our led drivers are widely used for:
1.Indoor LED illuminating lights
2.LED Neon, LED urban Decoration
3.LED Lighting Advertising,LED Display,strip,tape light
4.Safety Protection Apparatus
5.Telecommunications, Networks
6.Vehicle Lights, Controller Panels
Why choose us?
1. We are ETL CE audited LED drivers/power supplies enterprise in China.
2. Price is negotiable if you have large quantity demand.
3. 100% QC inspection Before Shipping.
4. Best Quality & Best Service with Competitive price.
5. Shipping will be the most economical for you and freight cost is informed in advance for your consideration.decision for the shipping terms will be made according to your requirements.
6. We have our engineer team, if you have any question about your LED applications, let us know freely, we will give you the best solution.
7. Our trade manager is online 12 hours. and we will reply your inquiry within 8 hours.
8. OEM design & OEM packing welcome.
9. Samples will be ready within 7 working days